Ukrainian Court To Hear Final Election Appeal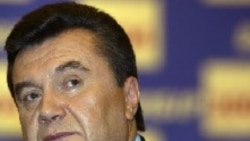 Viktor Yanukovych (file photo) 17 January 2005 -- Ukraine's Supreme Court is set to consider what could be a final appeal by Viktor Yanukovych to challenge his presidential runoff lose to rival Viktor Yushchenko.
Lawyers for Yanukovych are expected to argue today that the 26 December runoff was subject to fraud and influenced by the so-called Orange Revolution mass protests.
Today's hearing will be broadcast live on Ukrainian television.
The Supreme Court has already considered a number of appeals filed by Yanukovych. The court has rejected all the appeals so far.
The court has up to five days to consider this latest appeal.
Yushchenko cannot be inaugurated until Yanukovych has exhausted all legal options to challenge the election results.
(Reuters)
[For all the RFE/RL coverage and analysis of the political crisis in Ukraine, click here.]