Middle East: Hamas Claims Victory In Municipal Elections In Gaza Strip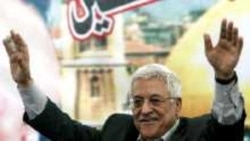 Mahmud Abbas (file photo) The radical Islamic movement Hamas is claiming victory in municipal Palestinian elections in the Gaza Strip. Hamas said it has won seven out of 10 municipal councils. Official results have not yet been released and are due later Friday. A victory for Hamas would be seen as a blow to newly elected Palestinian Authority President Mahmud Abbas, and could give the radical movement more leverage in its power-sharing dealings with Abbas's Fatah party.
28 January 2005 -- According to unofficial results, the radical Hamas movement won 77 out of the 118 seats in the first-ever local elections in the Gaza Strip, in an upset victory against the mainstream Fatah faction of Palestinian Authority President Mahmud Abbas.

Fatah looks to have won just 26 seats, while independents and minor parties won the remaining 15 mandates in 10 municipalities across the territory in yesterday's election. The official results are due to be announced later today at a press conference by local government minister Jamal Shobaki.

Hamas spokesman Mushir al-Masri told Reuters in Gaza City today that the result is a Palestinian triumph and a signal that reforms are needed. "It is a victory for the Palestinian people under occupation," he said. "I think this victory for Hamas also has more credible implications. These elections show that our people are very interested in reforms, and this is the slogan that was raised by Hamas and Hamas is capable of implementing it."

The local poll was seen as a key test of support for the Islamists, who boycotted the election that Abbas won by a landslide on 9 January on a platform of ending violence in order to allow new statehood talks with Israel.

Voter turnout was around 85 percent for the local poll -- considerably higher than the 70 percent in the presidential election.

Abbas has been trying to win a cease-fire from Hamas to prevent a power vacuum in the Gaza Strip after Israeli troops and settlers withdraw this year under Prime Minister Ariel Sharon's "disengagement plan."

Analysts say Hamas is demonstrating its claim to a share of power ahead of Israel's planned withdrawal. Alfred Pypers of the Netherlands Institute of International Relations (Clingendael) said the victory means Hamas's position has been strengthened considerably.

"Mahmud Abbas will meet a more powerful adversary, and this is not unimportant because Mahmoud Abbas is at the moment very busy with trying to assert the authority of the Fatah-PLO leadership in the Palestinian Authority and to create the foundations for a real state authority," Pypers said.

Many of the 1.4 million Palestinians in the Gaza Strip live in dire poverty. Hamas has won supporters not only for being at the forefront of the fighting against Israel, but also for its charity work and strong anticorruption stance. Many Palestinians have expressed disillusionment with the incompetence and cronyism rife in many councils.

But analyst Pypers said, despite the stamp of approval from voters, Hamas has to renounce violence if it wants to play an influential role in a future Palestinian state. "They can, for the time being perhaps, succeed in gaining legitimacy inside the Palestinian political system by pointing, indeed, to the corruption practices of the Palestinian Authority and the Fatah and PLO factions," he said. "But, on the other side, if they are not prepared in the future to stop the violence, there is no future for their leadership in any sort of Palestinian state."

Palestinian security forces, meanwhile, widened their control in the Gaza Strip under orders from Abbas to prevent attacks on Israelis in another step toward reviving Middle East peacemaking.