British TV Airs Interview With Basaev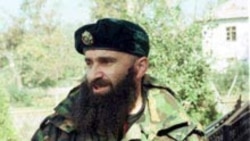 Shamil Basaev (file photo) 4 February 2004 -- A British television channel has aired an interview with radical Chechen field commander Shamil Basaev, who has claimed responsibility for the deadly Beslan school siege, despite Russian protests that the broadcast would help terrorists.
Basaev, Russia's most wanted man for a decade, told Channel 4 in the interview aired yesterday that he plans more attacks like the school hostage taking last September in North Ossetia that killed more than 330 people -- half of them children.
Basaev said such "operations" are necessary in order to battle what he called "chaos" and the disappearance of citizens in the separatist republic of Chechnya, which he blamed on Russia.
Yesterday, the Russian Foreign Ministry strongly criticized plans to air the interview, saying it would give "information support" to terrorists.
Channel 4 said it had sent its questions to Basaev through an intermediary after the Beslan seige. Station officials say it received a video CD with Basaev's responses some six weeks later.
Channel 4 said it did not know where Basaev filmed his responses, but believed the location was probably somewhere in Chechnya.
(Reuters/AFP/AP)
Related:

Analysis: Chechen Warlord Warns Of New Terrorist Attacks

Analysis: Look Back In Anger -- Ten Years Of War In Chechnya