Moldova: In Search Of Allies, Moldovan President Turns To Georgia, Ukraine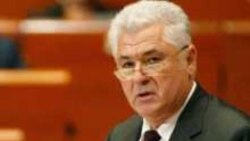 Moldovan President Vladimir Voronin (file photo) Georgian President Mikheil Saakashvili was due to pay an impromptu visit to Moldova on 2 March, just four days before legislative elections in that former Soviet republic. Saakashvili is expected to discuss regional security, and one of his stated goals is to express solidarity with Moldovans in what he called "their struggle for democracy." But the timing suggests the effect might be to bolster Moldova's ability to settle its separatist conflicts without interference from Moscow.
Prague, 2 March 2005 (RFE/RL) -- Saakashvili's plans to visit Moldova on his way to Italy were made public on 1 March, just one day after he received an invitation from Moldovan President Vladimir Voronin.
Georgian National Security Council Secretary Gela Bezhuashvili told reporters that Saakashvili's visit is aimed -- among other things -- at discussing the future of GUUAM, a regional security forum that comprises the former Soviet republics of Georgia, Ukraine, Uzbekistan, Azerbaijan, and Moldova.
Bezhuashvili said the need to redefine the goal of the organization stems from recent political changes in Ukraine and Georgia following what became known as the Orange and Rose revolutions.
"Voronin is supported neither by Russia, nor by any Western institution. Confronted with such a vacuum, he is turning to the new Ukrainian leadership, using both his personal relationship with Yushchenko, which is not bad, and the Transdniester issue. Ukraine is interested in solving this conflict and its position [now] opens new perspectives."
"Bilateral issues will be discussed. I also think GUUAM will be an important topic of discussion. GUUAM needs a new model, a new mission, and new functions," Bezhuashvili said. "Since the Rose Revolution and the Orange Revolution, its functions and purpose have changed. As I said earlier today, GUUAM should now be an organization that determines the development of democracy in the post-Soviet area."
GUUAM was founded in 1997 in Strasbourg by the presidents of Georgia, Ukraine, Azerbaijan, and Moldova. Uzbekistan joined two years later.
The grouping was originally designed as a political, economic, and security alliance meant to strengthen the independence and sovereignty of its founding members against Russia with a strong focus on energy issues. Yet, U.S. encouragement aside, the organization never really achieved its objectives and has primarily remained a discussion forum with little leverage on regional strategic developments.
Ukraine's new president, Viktor Yushchenko, on 1 March reportedly offered to revive the organization during a meeting with visiting Georgian Prime Minister Zurab Noghaideli.
The future of GUUAM was also among topics discussed during consultations between Yushchenko and his Moldovan counterpart later the same day.
Voronin on 1 March made a surprise visit to Kyiv, officially to review regional issues and Ukraine's mediation efforts between Moldova and its Russian-speaking separatist region of Transdniester.
A joint communique released at the end of the talks says Ukraine and Moldova support each other's efforts to integrate Europe's political and military structures, reaffirm their respect for each other's territorial integrity, and remain committed to boosting bilateral economic cooperation.
The statement says nothing about 6 March's Moldovan legislative elections, in which a radical opposition is challenging the country's Communist leadership.
But on 1 March, Saakashvili spokeswoman Alana Gagloyeva established a clear connection between the Georgian president's upcoming visit to Chisinau and Moldova's legislative polls.
"The aim of the president's visit is to express solidarity with the people of Moldova in their struggle for independence and choice of Europe," Gagloyeva said. "Important elections will take place in Moldova on 6 March. The aim of President Saakashvili's visit is n-o-t to support any specific political candidate. On the contrary, the president is ready to meet representatives from any political force."
Vadym Karasev is the director of a Kyiv-based think tank known as the Global Strategies Institute. He told RFE/RL he sees Voronin's visit to Kyiv and the invitation to Saakashvili as an attempt to secure the support of his Ukrainian and Georgian "revolutionary" counterparts. Such a move could cut the ground from his opponents' feet, Karasev said.
"On the eve of Moldova's parliamentary elections, Voronin is attempting to secure the support of Yushchenko, as a democrat and a revolution leader, and that of Ukraine, as a democratic and revolutionary country," Karasev said. "Voronin is supported neither by Russia, nor by any Western institution. Confronted with such a vacuum, he is turning to the new Ukrainian leadership, using both his personal relationship with Yushchenko, which is not bad, and the Transdniester issue. Ukraine is interested in solving this conflict and its position [now] opens new perspectives."
Karasev said he believes Voronin could now encourage Saakashvili to play a role in the settlement of the Transdniester conflict. The region, which has its capital in Tiraspol, seceded in 1990, triggering an armed conflict with Moldova.
"To have Saakashvili participate in the search for a solution to the Transdniester conflict and create an informal Kyiv-Chisinau-Tbilisi triangle would of course help Voronin and his government in their uneasy relationship with the separatist regime in Tiraspol," Karasev said.
Referring to the so-called Carpathian Declaration signed last month by Yushchenko and Saakashvili through which both leaders reaffirmed their commitment to integrate Europe, Georgian presidential spokeswoman Gagloyeva issued a veiled condemnation of Russia's support for the separatist leadership of Transdniester and of Moscow's alleged attempts at rekindling tensions in the region ahead of the Moldovan polls.
"Georgia supports the establishment of the principles of free elections and independence throughout the region based on the principles contained in the Carpathian declaration and considers the policy of blackmail and pressure totally unacceptable," Gagloyeva said. "We also support Moldova's territorial integrity."
Russia's "Nezavisimaya gazeta" newspaper on 2 March said Gagloyeva's statement indicated that Ukraine, Georgia, and Moldova are considering forging an "anti-Russian alliance."
In the eyes of the Russian daily, there is little doubt that any new alliance would be centered around Kyiv and a reformed GUUAM.
Ukrainian political analysts Karasev says such an alliance looks possible, provided GUUAM abandons its geostrategic character and its focus on energy issues to become a grouping of countries, as he calls it, "share common democratic and pro-European values."
Karasev says he believes that, by creating two radically opposed poles in the post-Soviet space, such a development would represent a serious challenge to Russia and any authoritarian or semi-authoritarian regimes in the region.