Moldova's Communists Win Elections, But Lose Seats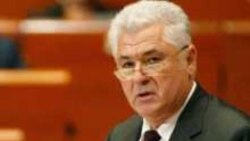 President Vladimir Voronin's Communists lack the seats to reelect him 7 March 2005 -- Moldova's ruling Communist Party suffered significant losses in parliamentary elections, but remains the largest party in parliament.
Petru Raileanu, head of the Central Election Commission, said today that final results show that the Communists under President Vladimir Voronin won 46.1 percent of the vote yesterday.
That is likely to give them 56 of 101 assembly seats, enough to pass laws, but short of the 61 needed to reelect Voronin as president on their own.
In the 2001 elections, the Communists scored nearly 51 percent of the vote, or 71 seats.
The centrist Democratic Moldova Bloc won 28.4 percent and is likely to get 34 seats. The Popular Party Christian Democratic had 9 percent and 11 seats.
Voter turnout is estimated at 63 percent.
(Reuters/dpa/AFP)
Related Articles:
"Why An Orange Revolution Is Unlikely In Moldova"
"Moldova: Communists Expected To Do Well In Elections"