President Says Iran Still To Resume Uranium Enrichment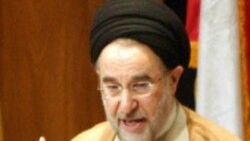 30 March 2005 -- President Mohammad Khatami said today that despite international pressure, Iran still intends to resume full-scale uranium-enrichment activities.
Khatami said that in negotiations with Great Britain, France, and Germany, Iran had only offered to temporarily limit its work to produce nuclear fuel.
The president was speaking to reporters after a tour of the underground uranium-enrichment facility in Natanz, 250 kilometers south of Tehran.
International Atomic Energy Agency inspectors sealed the Natanz facility in 2003 as part of an agreement between Iran and the EU. The EU wants Iran to scrap uranium enrichment -- a process which could be used to produce weapons -- in return for assistance with developing nuclear energy and other economic and security cooperation.
Iran says it only wants to enrich uranium to make nuclear fuel to generate electricity.
(AFP)
Related articles:
Analysis: Converging Policies On Iran