World: Pope John Paul Reached Out To Muslims In Former Soviet World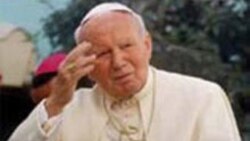 Pope John Paul II (file photo) John Paul II was the first pope to kiss the Koran and the first ever to enter a mosque. He was also the only pope to have met Palestinian leader Yasir Arafat and Jordan's King Abdullah, despite criticism from Israel and Jewish groups. John Paul encouraged dialogue between faiths, in particular with visits to Muslim-dominated Azerbaijan and Kazakhstan. His successor has a tough act to follow, especially as much of John Paul's popularity in the former Soviet Union came from his anti-communist stance.
Prague, 5 April 2005 (RFE/RL) -- With trips to Kazakhstan in September 2001 and Azerbaijan in May 2002, Pope John Paul II became the first pontiff to visit Muslim-dominated former Soviet republics.
Pope John Paul cited Kazakh poet and scholar Abay Qunanbay during his visit to Kazakhstan. Quoting in Kazakh, the pope said that "the human being finds love at the very bottom of his heart, and that is the Lord Almighty's deed."
He was also the first pope to kiss the Koran. The event took place in the Vatican in 1999 during a visit by an Iraqi delegation.
The pope spoke to thousands of people at an open-air mass in the capital Astana. He spoke of the "logic of love" that could bring together the two faiths and said that religion should not be a reason for conflict.
He was also the first pope to kiss the Koran. The event took place in the Vatican in 1999 during a visit by an Iraqi delegation.
And John Paul was also the first pope to enter a mosque, the 1,300-year-old Umayyad mosque in the Syrian capital of Damascus in May 2001.
Islamic clerics and scholars have recognized John Paul's significant efforts in promoting dialogue between Islam and Christianity.
Sheikh Fawzi Zafzaaf heads a university committee on inter-religious dialogue at Egypt's Al Azhar University, a prominent Sunni Islam school. Zafzaaf says that the pope was a force for change:
"There is no doubt that the holy pope, since assuming the guardianship of the Vatican, has established [a policy of] openness toward the world," Zafzaaf says. "I think he is probably the first pope to visit several countries with the purpose of developing relations between the people of those countries and the Vatican. He grew close to other religions, and encouraged dialogue between Catholic Christianity and Islam."
Raoul Motika, associate professor at the Heidelberg University in Germany, tells RFE/RL it was not only John Paul's efforts to promote dialogue with Islam that attracted the attention of many Muslims. Motika says that he was also known for his independent pacifist stance:
"There is n-o-t [only] a matter of dialogue between civilizations or religions, but also his political viewpoints," Motika says. "He was a fierce opponent of open warfare, be it started by the Americans or others, it didn't matter. This was widely recognized in the Islamic world."
In Azerbaijan and Kazakhstan, Catholics are a small minority. Some Muslims, as well as Orthodox Christians, protested against the pope's visit. But, for the most part, reaction to the visit in both countries was positive. The governments of both countries took the papal visits as recognition of their states' independence.
However, John Paul's relative popularity in the countries of the former Soviet Union is not just due to his attempts to promote inter-confessional dialogue.
Professor Motika says John Paul gained popularity in the former Soviet Union largely because of his anti-communist stance:
"Because the pope was a fierce opponent of the communist regimes, and he was one of the main factors in the toppling of the communist regime in Poland, the opposition in CIS [Commonwealth of Independent States] countries always welcomed him as a kind of 'comrade' against the communists, against the nomenklatura and so on," says Motika. "This is also a very important component, I'd say. Because of this, there was no widespread opposition against [the pope's] visits even in these Muslim-dominated countries."
With the world waiting for a new pope to be named, John Paul's successor will have a hard act to follow, particularly in the CIS.
Hekmatullah Saifullahzada, one of the leaders of the opposition Islamic Party of Tajikistan, says John Paul's successor should follow his example in establishing inter-confessional dialogue:
"He had influence over different aspects of society. He served well in starting up dialogue and cooperation between the two civilizations [Islamic and Christian]," says Saifullahzada. "In my opinion, people who witnessed his efforts would hope that anybody who takes his place will follow firmly in his footsteps. We are hoping that his successor will go even further in this direction."
Motika says that the new head of the Catholic Church is unlikely to be a native of a former communist country. Therefore, Motika says, he will have to work much harder to gain as much popularity as his predecessor:
"The high moral standards this pope [John Paul] followed will be very difficult for the new pope to meet. It depends very much on the person who will be elected," says Motika."But if issues of solidarity, justice, and injustice will be foremost issues for the new pope, then I think that he will also become an important figure for Central Asia and other CIS countries."
Motika also says that the new pope will be popular in the former Soviet world if he puts the issues of social injustice, inequality, and undemocratic regimes at the top of his agenda.