Rumsfeld Visits Iraqi, U.S. Military In Baghdad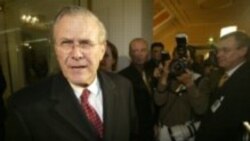 Donald Rumsfeld (file photo) 12 April 2005 -- U.S. Defense Secretary Donald Rumsfeld met with Iraq's new Prime Minister Ibrahim al Ja'fari in Baghdad, and warned against purging security forces amidst an active insurgency.
Al-Ja'fari's Shi'ite coalition, the United Iraqi Alliance, has the largest share of parliament seats and has been calling for a purge of some parts of the security forces, claiming they have been overrun with former members of Saddam Hussein's Ba'ath Party.
Rumsfeld also said after the meeting today that it would be unfortunate if Iraq's election-winning Shi'ite bloc decides to purge ministries when forming the new government.
"We had a good discussion about the political process that is taking place," Rumsfeld said. "It is, I know, something that is being watched not just in this country, not just in this region, but is having an effect in the region and the world."
Al-Ja'fari said he hopes the process of forming the cabinet will be finished by the end of this week and said he assured Rumsfeld that ministry workers will be effective "technocrats" from "different backgrounds."
(Reuters/AFP)
For the latest news and analysis on Iraq, see RFE/RL's webpage on "The New Iraq".