U.S., Britain Challenge Annan's Iraq Sanctions Comments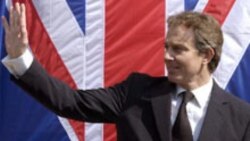 Blair's government disputes Annan's remarks (file photo) Washington, 15 April 2005 (RFE/RL) -- The U.S. and British governments have challenged claims by UN Secretary-General Kofi Annan that they did not do enough to enforce sanctions on Iraq when Saddam Hussein was in power.
U.S. State Department spokesman Tom Casey said the government remains committed to examining all abuses of the oil-for-food program in Iraq. But he stressed that Washington had a strong record in enforcing sanctions in the waters around Iraq: "I think the United States' record on this issue is very clear. The Maritime Interdiction Force that was established to help prevent smuggling activities was very active. You can check with the Pentagon and they can give you [full information] on how many thousands of vessels were inspected, stopped, turned around, and moved forward."

Earlier today, British Foreign Secretary Jack Straw also insisted that Britain was active against smuggling, including intercepting illegal shipments. Annan said yesterday that Britain and the United States ignored illegal Iraqi oil smuggling -- valued in the billions of dollars -- to Turkey and Jordan because those two countries were their allies.