Ukraine Edges Toward NATO-Membership Talks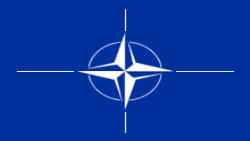 Prague, 22 April 2005 (RFE/RL) -- Ukrainian Foreign Minister Borys Tarasyuk told a news conference after a foreign-minister level NATO-Ukraine meeting in Vilnius on 21 April that Kyiv could complete the necessary military and political reforms for joining NATO within the three years, Ukrainian and international news agencies reported.
NATO Secretary-General Jaap de Hoop Scheffer backed Kyiv's NATO membership goal but refused to give a timetable.

"NATO has invited Ukraine to begin...an intensified dialogue on Ukraine's aspirations to membership...without prejudice to any eventual alliance decision," Reuters quoted Jaap de Hoop Scheffer as saying.

"It would be the choice of Ukraine to choose its partners and it is the sovereign matter of Ukraine," Russian Foreign Minister Sergei Lavrov said in Vilnius the same day.