U.K.: Blair Looks Poised For Third Term Despite Criticism Over Iraq, Domestic Questions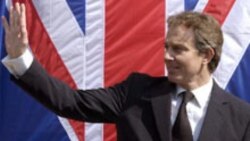 Prime Minister Tony Blair (file photo) Britons go to the polls on 5 May in a general ballot to elect 659 Members of Parliament to the House of Commons, or lower chamber of Parliament. The election is largely seen as a vote for or against Prime Minister Tony Blair, who is seeking a third and final term in office. Many voters are angered by Blair's support of the U.S.-led war in Iraq, and a wide range of domestic issues look set to hurt his support base as well. Still, most observers agree that Blair and the Labour Party are likely to win this third time around.
London, 29 April 2005 (RFE/RL) -- The election campaign has turned bitter, with many candidates attacking their opponents rather than extolling their party platforms.

Blair has come under increasing fire from his rivals in the Conservative Party, but has so far remained resolute.

"Let the Tories [Conservatives] keep up their personal attacks on me," Blair said. "I will keep setting out the policy choices that matter to the British people."

Both the Conservatives and the Liberal Democrats have sought to take advantage of rising public resentment of Britain's role in the U.S.-led campaign in Iraq. Observers say both parties have accused Blair of compromising his personal integrity.

"There is an issue of personal confidence in the prime minister over his reasons for joining in the Iraq war," said William Rees-Mogg, a member of the House of Lords and the former editor in chief of "The Times" daily. "That is a personal issue, but it's based on policy -- in the case of the Liberal Democrats, on the view that the war should not have been fought. In the case of the Conservatives, that the explanations for the war were not truthful."

The pressure forced Blair on 28 April to take the unusual step of releasing to the public the secret recommendations he received before making the decision to go to war.

The text contains nothing that could be used to accuse Blair of lying or willful deception. At a press briefing that day, Blair once again denied he had deliberately misled Britons about the need to depose Saddam Hussein.

"I did not take it because I wanted to deceive people or lie to them," Blair said. "I took it, because the decision was there to take. I did my best to take the right decision for the country. I can't apologize for that decision, because I still think the world is a better place with Saddam in prison rather than in power."

Experts say regardless of how voters feel about Tony Blair, Iraq is not likely to be a key issue in the elections.

"It may be decisive in a small number of constituencies, where there are large numbers of Muslim voters, who used to vote for Labour, who switched their support to the Liberal Democrats," said Phillip White, a politics specialist at the Economist Intelligence Unit. "But in terms of the overall result, I don't think it's going to have a major impact."

Observers expect the campaign in its final week to turn to domestic issues. Many voters favor the Labour government's economic competence and its reluctance to introduce the euro currency.

But the party fares less well on controversial issues like taxation, immigration, security, and the state of the national health system.

Still, most observers expect a Labour win -- albeit with a much lower parliamentary majority than its current 165 seats.

One important election force, experts say, are Britain's 1 million Muslim voters, many of whom are concentrated in constituencies where the rivalries have been most fierce.

In Britain's simple-majority system, every vote counts.

Inayat Bunglawala, a spokesman for the Muslim Council of Britain, said the group recently sent members of the Muslim community a 10-point questionnaire aimed at helping them determine who the best candidate is for them.

"We don't actually dictate to Muslims which way they should be voting," Bunglawala said. "We want them to make up their own minds based upon the answers to these questions. It's up to each individual voter to decide which party is, on balance, offering the best package."

British Muslims have been angered by the war in Iraq and what they see as an anti-Muslim bias in Britain's antiterror crackdown.

But Bunglawala said they have other concerns as well -- including religious discrimination, moral issues like abortion and euthanasia, and social exclusion and underachievement.

A number of parties are running in the election apart from the main three. They include the Scottish and Welsh nationalist parties, several Northern Ireland parties, the extreme-right British National Party, and two anti-EU parties.

Tens of other small groupings have also registered their candidates, some only in a few constituencies. Constituencies will begin to declare results late on election day. Final results should be ready the following day.