Hague Court To Investigate Hussein's WMD Use In Iran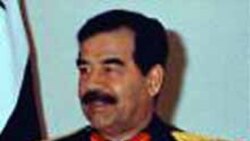 Hussein and his military also used chemical weapons against Iranians Prague, 3 May 2005 (RFE/RL) -- Kurdish journalist Masud Kurdpur told Radio Farda yesterday that the international court at The Hague will investigate complaints from chemical weapons victims against former Iraqi President Saddam Hussein soon.
Iraq is alleged to have used mustard agents, the nerve agent tabun, VX, sarin, and cyanide in the war with Iran (on
complaints against Saddam Hussein see "RFE/RL Iran Report," 19 July 2004). The residents of Sardasht were bombed in June 1987, before the bombing at Halabja in Iraq in March 1988. An estimated 4,500 people
were exposed to the toxins, and a significant proportion of them remain chronically ill.

Kurdpur said a nongovernmental organization recently interviewed 30 residents of Oshnavieh and Sardasht in connection with
a Dutch company's provision of chemicals to the Iraqi regime. The NGO pledged that their complaints will be dealt with by the end of the year.

Kurdpur said the individuals responsible for providing these chemicals have been identified. Kurdpur said the Iranian government has cooperated with the investigation, and it has pledged to provide help to the victims and to build a hospital in the area.