Del Ponte: Arrest Mladic, Karadzic Before Srebrenica Anniversary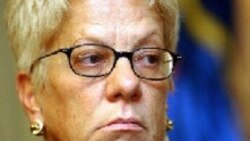 Carla Del Ponte (file photo) Sarajevo, 3 June 2005 (RFE/RL) -- The chief prosecutor of the UN war crimes tribunal, Carla Del Ponte, has again called on authorities in the Balkans to arrest two fugitive war crimes suspects.
Del Ponte said in Sarajevo today that the arrests of Radovan Karadzic and General Ratko Mladic would be the best way to commemorate the upcoming 10th anniversary of the Srebrenica massacre.
"I need Karadzic and Mladic in the Hague before 11 July to be able to [properly] participate in the commemoration of Srebrenica," she said.
Del Ponte's comments come after a video aired on Serbian TV earlier this week showing Serbian soldiers killing six Bosnian Muslims at Srebrenica in 1995.
Serbian prosecutors said today they have arrested 10 men identified from the video, which was first shown on Wednesday during the war crimes trial of former Yugoslav president Slobodan Milosevic.
The video came as a shock to many in Serbia. Prime Minister Vojislav Kostunica called it "terrible" while President Boris Tadic offered to travel to Srebrenica for the anniversary commemorations.
(RFE/RL's South Slavic and Albanian Languages Service, news agencies)
See also: Bosnia: Videotape Appears To Show Serb Murder Of Srebrenica Victims