Arrests Made In Iran In Connection With Bombings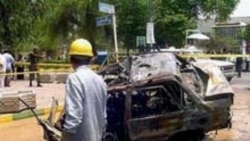 The aftermath of one of the series of bombings that hit Ahvaz 13 June 2005 -- Iranian intelligence chief Ali Yunessi says "several" suspects have been detained in connection with a series of bombings yesterday that killed at least seven people in the southwestern city of Ahvaz.
Yunessi says the suspects are "linked to elements abroad." He did not elaborate, but said further arrests are expected.
Although official reports had earlier put the death toll in Ahvaz at eight, Yunessi now says seven people were killed and 40 injured by the blasts in the capital of Khuzestan Province.
Yunessi says no progress has been made in the investigation of two explosions in Tehran late yesterday that killed two people.
Earlier today, Iran's top prosecutor called the bombers "enemies of God" and said he would seek the death penalty in the case.
The bombings came just days ahead of Iran's presidential elections, which are scheduled for 17 June.
(dpa/afp)
Related stories:
Bombings May Be Connected With Minorities, Election
Iranian Authorities Look Into Bomb Blasts