Iran Bomb Probe Continues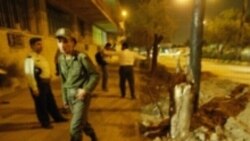 The aftermath of one of the 12 June explosions in Ahvaz. 14 June 2005 (RFE/RL) -- Iranian authorities today are continuing to investigate a series of explosions that killed at least nine people as the country prepares for a presidential election on 17 June, Radio Farda reported.
Iranian President Mohammad Khatami has ordered security personnel to quickly identify and arrest the perpetrators behind the explosions on 12 June in Ahvaz, the capital of Khuzestan Province, and in Tehran.
Authorities say at least seven were killed in the series of blasts in the southwestern city of Ahvaz, and two more died after two explosions in Tehran.
Late yesterday, Iranian intelligence chief Ali Yunessi said "several" suspects "linked to elements abroad" have been detained in connection with the bombings in Ahvaz. But he gave no details.
Yunessi said no progress had yet been made in finding those responsible for the explosions in Tehran.
(RFE/RL /Reuters/dpa)
See also:

Fact Box: Terrorist Attacks In Iran

Iranian Authorities Look Into Bomb Blasts

Iran: Bombings May Be Connected With Minorities, Election

See "Iran Votes 2005" for full coverage of Iran's 17 June presidential election.