Iranian President Says Blasts Will Not Affect Election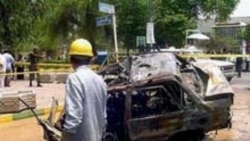 The aftermath of one of the Ahvaz bombings 14 June 2005 -- President Mohammad Khatami said today a series of deadly bombings in Iran's southwestern city of Ahvaz and the capital Tehran on 12 June will have no impact on the country's presidential election this week.
Khatami harshly condemned the bombings, which killed at least nine people, as "blind, violent acts" aimed at discouraging people from taking part in the country's 17 June election.
Judicial spokesman Jamal Karimi Rad was quoted today as saying six suspects were arrested yesterday on suspicion of involvement in the blasts, at least one of them over the Tehran bombing.
He gave no details on the suspects' identity.
Iranian intelligence chief, Ali Yunessi, late yesterday said "several suspects" had been arrested, and he claimed they were "linked to elements abroad."
Meanwhile, there were at least two small explosions in the southeastern city of Zahedan late on Monday and early today. Two people were reported slightly injured.
(Reuters/AFP/dpa)
See also:

Iran Bomb Probe Continues

Iranian Authorities Look Into Bomb Blasts

Iran: Bombings May Be Connected With Minorities, Election

Fact Box: Terrorist Attacks In Iran

See "Iran Votes 2005" for full coverage of Iran's 17 June presidential election.