Barzani Sworn In As Kurdish President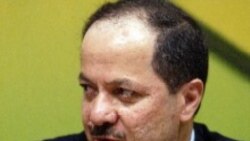 Mas'ud Barzani Prague, 14 June 2005 (RFE/RL) -- Kurdistan Democratic Party (KDP) head Mas'ud Barzani was sworn in as president of the Kurdistan region at a 14 June ceremony in Irbil, RFE/RL's Radio Free Iraq (RFI) reported.
The ceremony was scheduled to take place on 12 June, but was delayed after a sandstorm in Baghdad prevented some Iraqi dignitaries from traveling to the north.

Barzani swore to "protect the rights, gains, unity, and interests of the citizens of the Kurdistan region," adding, "I also reiterate that Kurdistan is an indivisible part of Iraq."

Iraqi President and Patriotic Union of Kurdistan (PUK) head Jalal Talabani also spoke at the ceremony, saying that the parliament's unanimous election of Barzani "embodies the unity of Kurdish decision-makers."

Talabani added that U.S. President George W. Bush contacted him on 13 June relaying his congratulations to Barzani and the Kurdish people on the eve of the ceremony.