Many Dead In Fresh Iraq Violence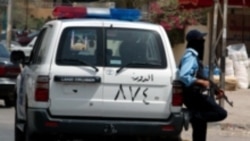 An Iraqi policeman stands guard after an insurgent attack in Baghdad today 15 June 2005 -- In the worst of several attacks today, at least 23 people were killed when an insurgent wearing an explosives belt blew himself up in a military canteen northeast of Baghdad.
Most of the dead were Iraqi soldiers. At least 29 others were reported wounded.
Witnesses said the explosion came at the canteen of an Iraqi Army base in Khales, 60 kilometers northeast of Baghdad.
Meanwhile, reports quote police and security sources as saying that a suicide car bomber slammed into two police cars on patrol in eastern Baghdad today, killing eight police officers.
Yesterday, a suicide bomber killed at least 22 people in Iraq's northern city of Kirkuk on a day when the Kurdish-dominated northern region officially received its first president.
A Sunni-Arab group (Army of Ansar al-Sunna) claimed responsibility for the blast in Kirkuk, the city that many Iraqi Kurds want as their capital.
(Reuters/AFP)
See also:

RFE/RL Special: The New Iraq