Pakistan Court Orders Arrests In Gang-Rape Case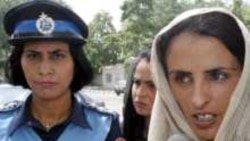 Mukhtar Mai (file photo) 28 June 2005 (RFE/RL) -- Pakistan's Supreme Court today ordered the arrest of five suspects who were earlier acquitted of gang-raping a woman on the orders of a village council in retaliation for her brother's alleged affair with a woman from a rival clan.
The victim of the rape, Mukhtaran Mai, appealed on 27 June against the acquittals of the five men, who had been sentenced to death for the June 2002 attack.
The men's convictions were overturned in March but they were quickly rearrested on the orders of the government. They were then freed again earlier this month by the Lahore High Court.
Mai has won international praise for going public about the rape and for refusing to be pressured into silence about abuses against women in South Asia.
(AP/Reuters/AFP)
See also:

Rape Case Spotlights Women's Rights