Date Set For Iran Inauguration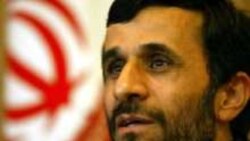 President-elect Mahmud Ahmadinejad (file photo) 28 June 2005 (RFE/RL) -- Mahmud Ahmadinejad will be sworn in as sixth president of the Islamic Republic of Iran on 4 August, according to a senior parliamentary official.
Iran's state news agency, IRNA, quotes parliamentary deputy speaker Mohammad Reza Bahonar as saying that there will also be a separate inauguration ceremony for Ahmadinejad on 3 August at which he will officially be accredited as president.
According to Iranian Constitution, the president must be sworn in at the parliament in the presence of the judiciary chief and parliamentary deputies.
Ahmadinejad was declared the winner in Iran's 24 June presidential runoff and will succeed President Mohammad Khatami, who was constitutionally barred from running for a third consecutive term.
(dpa)
For RFE/RL's full coverage of Iran's presidential vote, see "Iran Votes 2005"