White House Says It Is Investigating Ahmadinejad's Past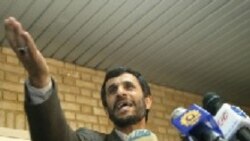 Mahmud Ahmadinejad (file photo) 30 June 2005 -- The White House today said it is concerned by unconfirmed reports that Iranian President-elect Mahmud Ahmadinejad may have been involved in the 1979 takeover of the U.S. Embassy in Tehran.
Two former U.S. diplomats who were held hostage at the compound for 444 days told U.S. television they are convinced Ahmadinejad was one of their captors.
White House spokesman Scott McClellan said today this raises many questions. He said the government is investigating the allegations.
Mohsen Mirdamadi, a leader of the hostage-takers in Tehran, has rejected the allegations, saying Ahmadinejad was not one of them.
(AFP/Reuters)
See also:

RFE/RL Special: Iran Votes 2005