Climate Change On Agenda At G-8 Summit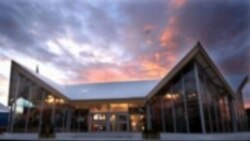 7 July 2005 (RFE/RL) -- The leaders of the Group of Eight (G-8) leading industrialized countries are expected to seek agreement on a new declaration on curbing global warming during the first full day of their summit today at the Gleneagles resort in Scotland.
The opening day of the summit on 6 July was marked by protests by anti-globalization activists near the heavily guarded meeting center.
Some protesters clashed with police and tried to tear down a perimeter fence around the summit site before being repelled by police.
Reports say that during the 7 July sessions, the leaders of summit host Britain, the United States, Russia, Italy, France, Germany, Japan, and Canada are expected to agree a communique expressing their support for actions that could be taken to reduce emissions believed to lead to global warming.
However, they are not expected to commit their nations to any new specific numerical targets for reductions of the emissions known as "greenhouse gases."
On 8 July, the G-8 leaders are expected to turn their attention to proposals to double aid to impoverished African countries.
(Reuters/AP/AFP)
See also:

Can G-8 Summit Expectations Be Met?

Leaders Gather For G-8 Summit