Russia Reports Fewer Military Deaths In Chechnya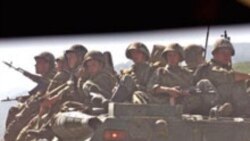 Russian troops in Chechnya (file photo) 7 July 2005 (RFE/RL) -- Russian Defense Minister Sergei Ivanov said today that deaths of Russian servicemen in Chechnya dropped by nearly one-third in 2005, compared with the same period last year.
Ivanov told reporters that 51 soldiers from military and interior ministry forces serving in the violence-wracked Russian region died in the first six months of the year. Last year, 88 troops died.
The Interfax news agency, meanwhile, reported today that police detained a guerrilla leader outside the Chechen capital, Grozny. Aslanbek Nuriev was wanted for the 2002 murder of a district administrator and other killings.
Interfax also says gunmen today shot and killed a police officer and a civilian in Chechnya's Shali District.
(AP)
For RFE/RL's full coverage of developments in Chechnya, see "Crisis In Chechnya"