Kyrgyzstan: What Will Be New Government's Domestic, Foreign Policies?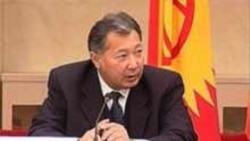 Serious challenges await Bakiev (file photo) Kyrgyzstan's newly elected president, Kurmanbek Bakiev, faces a wide range of domestic issues like corruption and poverty. On the international front, the situation is no less complicated. Bakiev will be dealing with superpowers like Russia, China, and the United States, as well as neighbors Kazakhstan and Uzbekistan. So what will Bakiev's foreign and domestic policies be? RFE/RL reports from the Kyrgyz capital Bishkek.
Bishkek, 12 July 2005 (RFE/RL) -- Soon after Bakiev came to power and was appointed interim president in late March, he encountered two serious foreign-policy challenges.
The first was the problem of the U.S. military base in Kyrgyzstan. Bakiev is facing pressure from his partners in the Shanghai Cooperation Organization (SCO) -- notably Russia and China -- to demand the withdrawal of U.S. troops from Kyrgyzstan.
At a summit last week in the Kazakh capital Astana, member-states of the Shanghai group, or SCO, asked Washington to set a date for its withdrawal. The U.S. maintains a second base in Uzbekistan. Both bases are used for its military operations in Afghanistan.
At the first presidential press conference following his easy win this weekend, Bakiev yesterday said it was time to discuss the future of the U.S. base at the Manas international airport near Bishkek.
"As far as the military base of the United States in Kyrgyzstan is concerned, this issue was raised at the Shanghai Cooperation Organization summit in Astana," Bakiev said. "Raising this issue was the right thing to do, as the situation in Afghanistan has changed."
The other immediate challenge for Bakiev is the problem of Uzbek refugees who have sought shelter in Kyrgyzstan following the deadly clashes in Andijon in May. The United Nations and a number of foreign governments have pressured Bakiev to let the refugees remain in his country.
In remarks yesterday, Bakiev appeared eager to appease both the West and neighboring Uzbekistan on the question of the Andijon refugees.
"The presence of Uzbek citizens in the Suzaq district of Jalalabad region doesn't have any negative impact on our relations, on my relations with [Uzbekistan's President Islam] Karimov, or on our relations with other states," Bakiev said. "On the contrary, Kyrgyzstan's leadership has taken all possible measures to solve this acute and difficult problem within the framework of international law. We have international obligations. On the other hand, we have bilateral obligations with Uzbekistan. We have to fulfill them too."
Michael Hall, the Bishkek-based director of the International Crisis Group's Central Asia Project, told RFE/RL that pressure from Kyrgyzstan's SCO partners is putting Bakiev in a difficult position.
The new Kyrgyz president said his priority on the economic front will be to develop national production capacity.
"Bakiev is trying to find a comfortable position for himself in the middle -- trying to strike a balance between Russia and China on the one hand, and the West on the other," Hall said. "Obviously, it's going to be a very difficult thing to do, given the amount of pressure he's come under."
Analysts say Bakiev also faces problems he inherited from the old regime. On the domestic level, the most serious issues are poverty and corruption.
At his press conference, the new Kyrgyz president said his priority on the economic front will be to develop national production capacity.
"I'll do my best to make Kyrgyzstan's people feel better, to improve their living conditions in the next two-three years," Bakiev said. "For that, we seriously intend to pay attention to the area of production. I'll do my best to fully support [Kyrgyz] producers, businessmen, and entrepreneurs."
Bakiev also said his interim government had already begun to tackle the problem of corruption.
"First of all, when I was appointed interim prime minister and interim president, I started to fight against corruption, and we intend to continue doing that as long as I am head of state," Bakiev said. "This will not stop for even a day. And I can tell you that the measures I adopted brought definite results. However, I am far from assuming that we have solved the problem of corruption."
Some observers say Bakiev and his political circle for now seem most interested in exposing the wrongdoings of the regime of his predecessor, ousted President Askar Akaev.
Ishenbai Abdrazakov, a former diplomat and state secretary under Akaev, told RFE/RL that focus is unlikely to change anytime soon.
"As far as domestic policy is concerned, there are many unresolved problems," Abdrazakov said. "Generally speaking, [the priority] is to deconstruct the old system that led to the crisis in the country and to correct those mistakes that led to the events of 24 March. It will depend on the political will of [the new authorities], their understanding of the problems and their readiness to act in a new way and lead the country in a new direction."
Bakiev, however, seemed intent on moving ahead. He said yesterday the government had to start solving problems quickly, adding: "We don't have time to think about them for too long."