Iran Election Watchdog Says Presidential Results Stand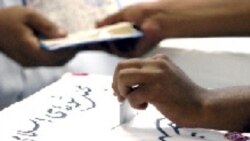 16 July 2005 (RFE/RL) -- A spokesman for Iran's hard-line election watchdog says the outcome of last month's presidential vote is final.
This comes after reformist Interior Minister Abdolvahed Moussavi-Lari said he was ready to order a partial recount.
Guardians Council spokesman Gholam Hossein Elham told the student news agency ISNA that the election is -- in his words -- a "finished matter." He said the victory of hard-line President-elect Mahmud Ahmadinejad had already been validated by the council.
Moussavi-Lari said yesterday he is willing to order a partial recount of ballots after a losing candidate complained of fraud. He made the announcement in an open letter to outgoing President Mohammad Khatami.
The letter comes after former parliament speaker Mehdi Karoubi demanded a recount of the June 17 ballot.
(AFP)
For RFE/RL's full coverage of Iran's presidential election, see "Iran Votes 2005"