Amnesty International Slams Iraqi Insurgents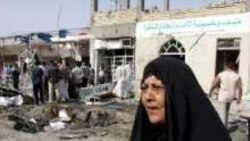 An explosion at a Shi'ite mosque in May 25 July 2005 (RFE/RL) -- The London-based human rights group Amnesty International says insurgents battling U.S.-led forces in Iraq are engaged in "a pattern of war crimes and crimes against humanity."
A report released by the group today says armed groups opposed to the U.S.-led multinational force and Iraq's government show "utter disdain" for the lives of Iraqi civilians and others. It says the insurgents fail to respect even the most basic standards of humanitarian law.
The report is titled "Iraq, In Cold Blood: Abuses By Armed Groups." It says human rights violations and the killing of civilians by U.S.-led forces in Iraq cannot justify the tactics of hostage-taking, torture, and summary execution used by the insurgents.
It also calls on Iraqi religious leaders and other influential figures to condemn atrocities and to resist efforts to justify them.
(AFP)
See also:

Iraq: Blurred Line Between Terrorism And Honorable Resistance