Leaders Of Georgian Breakaway Regions Meet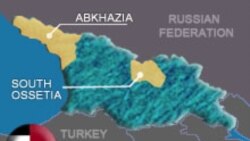 27 July 2005 (RFE/RL) -- The leaders of two Georgian breakaway regions agreed to step up cooperation in security and other areas during talks in the Black Sea resort town of Gagra on 26 July.
Abkhazian President Sergei Bagapsh and South Ossetian leader Eduard Kokoity discussed the situations in their respective regions, both of which have run their own affairs since breaking away from government control during wars in the 1990s.
A statement after the talks said that the two sides agreed to develop strategic cooperation in all spheres and agreed to coordinate measures to ensure the security of both states.
Georgian President Mikheil Saakashvili has vowed to bring the two regions back under central-government control.
(AP/ITAR-TASS)
See also:

Tbilisi Says Russian Officers Behind Gori Bombing