U.S. General Says Insurgents Employing Losing Strategy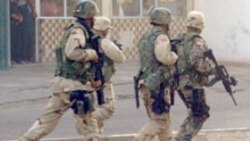 U.S. troops in Baghdad (file photo) 28 July 2005 -- The top U.S. military commander in Iraq, General George Casey, says the insurgency has a "no-win" strategy by becoming more violent and focusing its attacks on civilians.
"I wouldn't say that it is necessarily a stalemate. I mean, insurgencies need to progress to survive, and this
insurgency is not progressing. What you are seeing is a change in tactics to more violent, more visible attacks against
civilians, and that is a no-win strategy for the insurgency."
Casey also said the United States will be able to make "fairly substantial reductions" of troops next spring if there
are positive developments in Iraqi security forces and the country's political process.
Casey made the remarks yesterday after talks with U.S. Secretary of Defense Donald Rumsfeld, who arrived in Baghdad on an unannounced visit.
Rumsfeld met with Iraqi Prime Minister Ibrahim al-Ja'fari, and urged him and the country's leaders to meet a 15
August deadline to write a new constitution.
Also yesterday, the Algerian government confirmed that two of its diplomats in Iraq have been killed by their
kidnappers. The deaths were the latest in a recent series of attacks on foreign envoys in Iraq.
(Reuters/AFP/AP/dpa)
Related Stories:

Murders Hurt Efforts To Enlist Sunnis In Politics

Blurred Line Between Terrorism And Honorable Resistance