Demonstrators Clash In Azerbaijan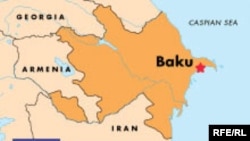 (RFE/RL) 8 August 2005 (RFE/RL) -- Around 300 pro- and anti-government demonstrators clashed on the streets of the Azerbaijani capital Baku today.
The pro-government rally faced off with the opposition rally just days after police arrested the leader of an opposition youth group for his alleged contacts with Armenian agents.
Opposition supporters have been protesting the arrest. The two sides today began throwing eggs, stones, and bottles at each other before police moved in, pushing back opposition supporters before demonstrators from both sides dispersed. There were no immediate reports of serious injuries.
Tensions between Azerbaijan authorities and the opposition have been escalating ahead of November's parliamentary elections.
(AFP/ RFE/RL)