Russia, Poland Agree To Work To Improve Relations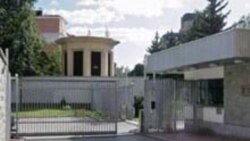 The Polish Embassy in Moscow 12 August 2005 -- The Kremlin said today that Russia and Poland have agreed to take steps to improve difficult relations strained by street violence against each other's citizens.
A Kremlin statement said Polish President Aleksander Kwasniewski and Russian President Vladimir Putin had spoken by telephone and noted the incidents "cannot be seen outside the context of an unfavorable political atmosphere between the two countries."
The statement noted there is a need to
improve bilateral relations.
Two Polish diplomats and a reporter were attacked in Moscow this week after four Russian children, three of them offspring of diplomats, were beaten up in Warsaw by a group of unidentified Poles, sparking an outcry in Russia.
Earlier, Russian Deputy Foreign Minister Sergei Kislyak expressed regret over the attacks in Moscow.
(AP/Reuters)