Moscow Links Beatings Of Russians To Tensions In Poland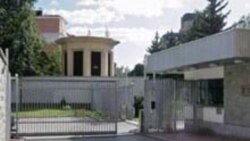 The Polish Embassy in Moscow 13 August 2005 -- The Russian Foreign Ministry said today that tensions in Poland prior to the 9 October presidential election are to blame for anti-Russian sentiment in Poland.
The ministry issued a written statement after a meeting between Polish Ambassador to Russia Stefan Meller and Russian Deputy Foreign Minister Valerii Loschinin.
It claimed these "tensions" created the political atmosphere for the recent beatings of Poles in Moscow and Russians in Warsaw. The mugging and beating of three teenage children of Russian diplomats and their Kazakh friend in a Warsaw park on 31 July brought angry statements from Moscow. Polish police later charged two men with possession of mobile phones allegedly stolen from the teenagers.
In apparent retaliation, a Polish embassy employee, a Polish diplomat, and a Polish correspondent were beaten in separate but similar incidents in Moscow this week by unidentified attackers.
Polish President Aleksander Kwasniewski has called on his Russian counterpart Vladimir Putin to take urgent action to find those responsible.
See also:
Russia/Poland: Assaults Add New Sour Note To Rivalry
(AFP)