Iraqis Working To Meet Constitution Deadline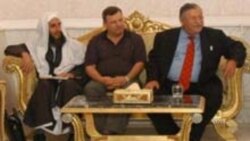 Iraqi interim President Jalal Talabani (right) meeting with Iraqi religious leaders to discuss the constitution on 11 August 14 August 2005 -- Iraq's constitution writing committee is working against the clock to reach a final agreement on a draft in time for tomorrow's deadline.
National Assembly speaker Hajim al-Hassani said today in a press release that no final agreement has been reached on the constitution.
Zalmay Khalilzad, the U.S. ambassador to Iraq, also said in televised comments that no agreement has been reached. Parliament has been summoned to hold a special sitting tomorrow evening and several negotiators have said that it is
likely the National Assembly will be able to start its review of the new charter right away.
The main sticking point has been arguments over the extent of regional autonomy, as well as over the place of Islam
in common law.
(Reuters/AFP/dpa)
For the latest news on events in Iraq, see The New Iraq