Suicide Bomber Wounds 11 In Baghdad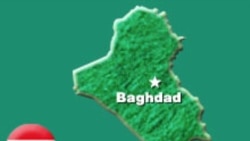 15 August 2005 (RFE/RL) -- Police say a suicide bomber on a motorcycle wounded at least 11 people today when he blew himself up in a central Baghdad restaurant.
The attack occurred as Iraqi leaders were holding last minute talks to agree on the country's new constitution.
Parliament has scheduled a special session for 6 p.m. local time to consider the draft, but it is still not clear whether the document will be
ready on time.
A meeting with leaders of all main parties is expected later in the day.
Jalaladin al-Shagir, a lawmaker from the biggest Shi'ite party, said he believes political leaders were leaning toward extending the deadline for up to a month.
Once it is approved by parliament, the draft constitution must be voted on in a referendum in October.
(AP/Reuters)
For RFE/RL's full coverage of developments in Iraq, see "The New Iraq"