Chechen Official: Death Toll From Wars Could Be 160,000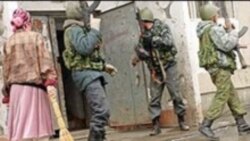 Chechen security forces 15 August 2005 -- A top pro-Moscow official in Chechnya said today that up to 160,000 civilians and troops have died or gone missing in the two wars that have been fought in Chechnya.
The ITAR-TASS news agency quoted Taus Dzhabrailov, the head of Chechnya's interim parliament, as saying up to 40,000 of them are ethnic Chechens. Dzhabrailov did not explain why he believed ethnic Chechens made up such a small proportion of the death toll.
According to the Russian human rights organization Memorial, the number of killed or missing civilians was 60,000 for the two wars.
Russia's first military campaign in Chechnya lasted from 1994-96. The second one started in 1999.
(Reuters/Interfax/ITAR-TASS)
See a six-year archive on news from Chechnya by viewing Crisis in Chechnya