Iran's Oil Revenues On Record Pace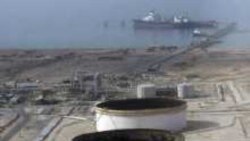 Oil refinery on Lavan Island (file photo) 15 August 2005 (RFE/RL) -- Iran's oil revenues in the current Iranian year 1384 (21 March 2005 to 20 March 2006) is expected to reach $43 billion, an increase of more than $10 billion over the previous year.
Iran's student news agency, ISNA, quoted outgoing Deputy Oil Minister Ghanimi Fard as saying that if the predictions are correct and prices continue to rise, Iran's oil income will reach a historic high.
The official said that 80 percent of the country's revenues are still derived from oil exports.
(dpa)
See also:

Oil Ministry Is The Focus Of Anticorruption Bid