Ukraine Hosts Polish, Lithuanian, And Georgian Leaders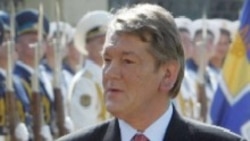 Ukrainian President Yushchenko (file photo) Kyiv, 18 August 2005 (RFE/RL) -- The presidents of four former Soviet bloc countries held meetings on Ukraine's Crimean peninsula today.
Ukrainian President Viktor Yushchenko and his Polish counterpart, Aleksander Kwasniewski, were the first two leaders to sit down for one-on-one talks in the Black Sea region today.
Yushchenko's press office said in a statement that the two discussed developments in neighboring Belarus, which is locked in dispute with Poland over the status of ethnic Poles.
Yushchenko later met with Lithuania's Valdas Adamkus for discussions on boosting trade and cooperation in the Baltic and Black Sea regions, Yushchenko's office said.
Georgian President Mikhail Saakashvili joined the three presidents later. Relations with Russia were expected to dominate talks at a joint meeting of the four leaders scheduled for tomorrow.
The presidents were in Ukraine to mark the 80th anniversary of the founding of
the communist Young Pioneers
youth organization, which was established at the elite camp Artek on the Crimea.
(AP, RFE/RL's Ukrainian Service)