China And Russian Launch Historic Military Maneuvers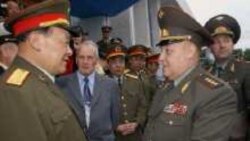 The Chinese and Russian chiefs of general staffs, Liang Guanglie and Yurii Baluyevskii talk in Vladivostok today Vladivostok, 18 August 2005 (RFE/RL) -- Russia and China launched their first-ever joint military exercises today as the top commanders from both countries issued assurances that the war games aren't intended as a threat to anyone.
The top generals from the two countries -- Chinese General Liang Guanglie and Russian General Yurii Baluyevskii -- launched the exercises at a meeting at Russia's Pacific Fleet headquarters in the Far East port of Vladivostok.
The two nations in coming days will practice coordinating a joint force that will stage a mock invasion next week on China's Shandong Peninsula in the Yellow Sea -- using air, sea, and land forces to simulate a mission stabilizing a restive country.
Liang and Baluyevskii repeatedly stressed at a news conference that the drills weren't intended to be a show of intimidation.
(RFE/RL's Russian Service, AP)
For more on the Russian/Chinese maneuvers, see Russia/China: Joint Military Exercise A Result Of New Strategic Partnership