Chinese, Russian Paratroopers Jump To Historic First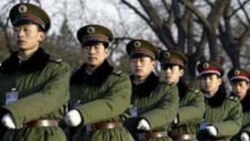 Chinese paramilitary troops (file photo) 20 August 2005 -- Russian and Chinese paratroopers today landed along China's northeastern coast as some 9,000 soldiers from the two countries began the second stage of their first-ever joint military exercises.
The war games
were inaugurated
on 18 August in the Russian port of Vladivostok.
The exercise today on the Shandong peninsula, in the Yellow Sea, was meant to simulate landing a joint force to stabilize a fictional country.
Russian news agency ITAR-TASS reported that a group of 86 paratroopers with 18 military vehicles landed at a Chinese training ground and practiced reaching an assault position and launching an attack on enemy positions.
About 7,000 Chinese troops and 1,800 Russians with ships, fighter planes, and amphibious vehicles are taking part in the Peace Mission 2005 exercise.
(AP)
More on the exercises' strategic importance:

"Russia/China: Military Exercises Underscore Growing Ties"

"Russia/China: Beijing Announces Joint Military Exercises With Russia"