Hussein Attorney Denies Ex-Iraqi Leader Confessed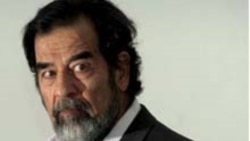 Hussein in court last month 8 September 2005 -- Former Iraqi leader Saddam Hussein's chief attorney has denied that Hussein has confessed to ordering executions and waging a campaign against Kurds in which thousands of people were killed.
Reuters today says it has received a statement from the attorney, Khalil Dulaimi, that says: "there was no confession by the president and all the investigations in this case do not implicate him at all."
Iraqi President Jalal Talabani told state television on 6 September that an investigator who questioned Hussein told him he
had
extracted important confessions
from him and that the ousted leader had signed them.
But Talabani did not say if Hussein had actually admitted to committing any crimes or merely acknowledged that
he was Iraq's leader at the time of various military operations.
In the latest violence, a police spokesman today says police have found 14 unidentified bodies in civilian clothes at several locations near the town of Mahmoudiyah, about 30 kilometers south of Baghdad. He said all had been shot to death.
(Reuters/AP)
For the latest news on Iraq, see The New Iraq