Ukrainian Political Crisis Deepens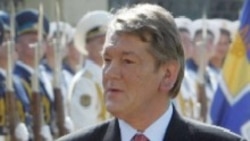 President Yushchenko (file photo) 8 September 2005 -- Ukraine's seven-month-old government is facing a crisis amid allegations of high-level corruption.
Mykola Tomenko, deputy prime minister for humanitarian affairs, said today he is resigning from his post because he
wants no part in what he called a "system of corruption" that he said involved the inner circle of advisers to President
Viktor Yushchenko.
Shortly afterwards, Petro Poroshenko, the secretary of the National Security Council, announced in a statement that he had offered to resign so as not to obstruct an official investigation into corruption charges.
Poroshenko was one of the high-level officials accused of corruption by Yushchenko's former chief of staff, Oleksandr
Zinchenko. Zinchenko resigned on 3 September,
sparking a crisis in the government.
Late yesterday, Yushchenko said personal conflicts between members of the government cause serious damage to the government's image and that it is "time to work for the country."
(Reuters/AP/AFP)