Yushchenko Urges Parliament To Work With New Cabinet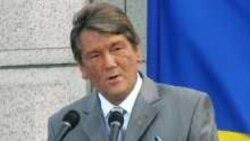 President Yushchenko (file photo) 9 September 2005 (RFE/RL) -- Ukrainian President Viktor Yushchenko and new acting Prime Minister Yuriy Yekhanurov are holding talks today in a bid to overcome a political crisis a day after Yushchenko sacked the entire government.
Yushchenko met with parliamentary faction leaders and urged them to work with the future cabinet.
Meanwhile, Yekhanurov is meeting with outgoing ministers and political leaders to hold consultations on forming the new team.
Yushchenko appointed Dnipropetrovsk Oblast Governor Yekhanurov acting prime minister yesterday after he dismissed the government of Prime Minister Yuliya Tymoshenko.
Yekhanurov, speaking yesterday to reporters in Kyiv, said ensuring stability will be his top priority.
"The most important thing for the country is stability, so that the average citizen feels that there is a president in the country, there is a government in the country, there is a parliament and that the whole government works to ensure that every citizen feels that this government cares for him," Yekhanurov said.
Yushchenko sacked Tymoshenko's team amid allegations of high-level corruption which prompted the resignations of several ministers and top officials.
Yekhanurov has said ensuring stability will be his top priority.
(Reuters/AFP)
See also:

Ukraine's President Sacks Government In Growing Crisis

Corruption Allegations Abound In Ukraine

Interview With former Prime Minister Tymoshenko