Iraqi, U.S. Forces Step Up Offensive Along Syrian Border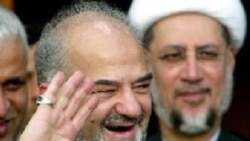 Prime Minister al-Ja'fari (file photo) 9 September 2005 -- Iraqi Prime Minister Ibrahim al-Ja'fari said today that Iraqi and coalition forces have stepped up their attacks on insurgent positions along and near Iraq's border with Syria.
Ja'fari said troops were continuing to eliminate terrorists in the town of Tal Afar in northern Iraq, where recent U.S. military statements said some 215 insurgents have been killed in the last eight days.
Ja'fari said security was tightened along the border with Syria to prevent foreign fighters from entering Iraq.
Meanwhile, in Washington today, Iraqi President Jalal Talabani urged the U.S. not to withdraw its forces from Iraq too soon. Talabani said in a speech at a Washington hotel that Iraqis honored the sacrifices Americans were making and said a premature pull-out would give terrorists the victory.
(AFP/Reuters)
For more news on Iraq, see The New Iraq