Ukraine's Sacked Premier Promises To Win Job Back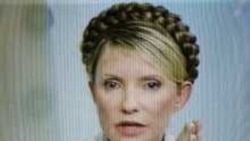 Yuliya Tymoshenko (file photo) 13 September 2005 (RFE/RL) -- Ukraine's sacked Prime Minister Yuliya Tymoshenko today said that she intends to win back her post after parliamentary elections next year and then run for president in 2009.
Ukrainian President Viktor Yushchenko fired Tymoshenko and her government 8 September. He then installed longtime ally Yuriy Yekhanurov as acting prime minister to stem a political crisis that centred on accusations of corruption.
Yushchenko today urged Ukraine's parliament, the Verkhovna Rada, to endorse Yekhanurov as prime minister.
Meanwhile, opposition lawmakers today seized control of the podium in parliament to protest the continued detention of former Transcarpathian Oblast Governor Ivan Rizak.
Rizak was detained in May
for alleged abuse of office.
Also, the Our Ukraine parliamentary faction today urged the country's political elites to nominate worthy candidates for the new cabinet, emphasizing that the government should be composed of professionals.
(Interfax-Ukraine/Reuters/ITAR-TASS/AP)
See also:

Former Premier Tymoshenko To Go It Alone

President Sacks Government, Offering More Questions Than Answers

A Conflict Over Gas And Power In Ukraine