Croatian President Says UN Reform Is Essential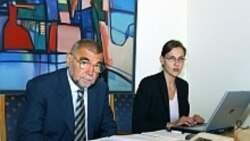 Stipe Mesic (file photo) United Nations, 16 September 2005 (RFE/RL) -- Croatian President Stjepan Mesic told the United Nations today that his government sees reform of the world body as essential to bringing it into the 21st century.
Addressing the UN General Assembly, Mesic said the focus of the UN now is much as it was when it was created 60 years ago, especially with the Security Council dominated by the Allies of World War II.

Instead, he said, the UN should reflect the world as it its today, and should even anticipate the world of tomorrow. Only that way, he said, can it be a truly representative institution.