Shooting Rocks South Ossetia Capital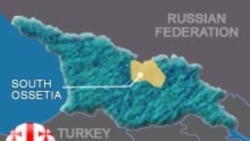 19 September 2005 (RFE/RL) -- Shooting broke out today in Tskhinvali, the capital of South Ossetia, a separatist region in Georgia. One man was wounded in the incident.
Irina Gagloeva, a spokeswoman for South Ossetia's internationally unrecognized government, blamed the gunfire on Georgian paramilitaries.
Georgia's Interior and Defense ministries have denied the charge.
The incident comes as South Ossetia today marks 15 years of independence.
South Ossetia broke away from Georgia during a war in the 1990s. Georgian President Mikhail Saakashvili has vowed to bring South Ossetia and another separatist region,
Abkhazia
, back under Tbilisi's control.
Russian and Abkhaz representatives are visiting Tskhinvali to attend Independence Day celebrations today.
(RFE/RL's North Caucasus and Georgian services, Interfax, AP)