Tymoshenko Offers Support To Yushchenko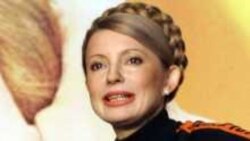 Yuliya Tymoshenko (file photo) 21 September 2005 (RFE/RL) -- Ukraine's former prime minister, Yuliya Tymoshenko, has said she is ready to form a new government if asked to do so by President Viktor Yushchenko, who fired her earlier this month.
"In this difficult time, when the political crisis is deepening, I want to declare that I am ready to give him a helping hand," Tymoshenko said, according to Channel 5. "I want to propose to [Yushchenko] simply to return [to the time we had] a year before and unite our efforts once again."
Ukrainian President Viktor Yushchenko is holding talks today with political leaders in a bid to resolve a deepening government crisis.
Yesterday, the parliament (Verkhovna Rada) narrowly rejected Yushchenko's nominee for prime minister, Yuriy Yekhanurov.
Parliamentary speaker Volodymyr Lytvyn said that Yushchenko will meet parliamentary faction leaders today before proposing Yukhanurov to parliament again.
State Secretary Oleg Rybachuk said he expects the president will re-submit the candidacy of Yekhanurov "in several days." But he admitted that other candidacies cannot be ruled out.
The government crisis began when Yushchenko dismissed the government of Tymoshenko two weeks ago amid infighting and accusations of corruption among senior officials.
(AP/ITAR-TASS)
See also:

Ukrainian Parliament Fails To Appoint New Premier

More news and analysis on Ukraine