EU Hardens Its Stance On Iran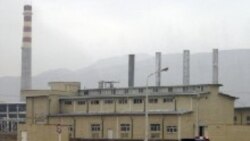 Iran's uranium-conversion facility at Isfahan 21 September 2005 -- The European Union hardened its stance on Iran today, saying it is "deeply concerned" about Tehran's determination to press ahead with a nuclear program that could produce atomic bombs.
The statement was made on behalf of the EU's 25 member states and other European nations. It was read out by British Ambassador Peter Jenkins during a closed-door meeting of the International Atomic Energy Agency's (IAEA) 35-nation board of governors in Vienna.
The board is discussing an EU draft resolution that would report Iran to the UN Security Council for possible sanctions.
Russia has threatened to vote down the resolution, which Foreign Minister Sergei Lavrov dubbed "unnecessary politicizing." Lavrov said today that Iran is cooperating with the IAEA.
Iran says its nuclear program is peaceful. Yesterday its chief nuclear negotiator threatened to resume uranium enrichment -- which can produce fuel for bombs -- if the IAEA board approves the EU resolution.
(international agencies)
For more on Iran and its nuclear program, see RFE/RL's website Iran's Nuclear Program