Bosnia-Herzegovina: 'The 11th Hour' For Bosnian Serbs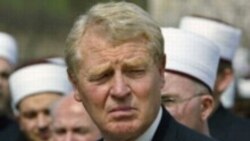 International envoy Paddy Ashdown (file photo) International representative Paddy Ashdown said in a statement in Sarajevo on 22 September that the Bosnian Serb leadership must rethink its opposition to police reform or face "consequences that come with isolation," his website reported. He made it clear that this is a final warning before he takes unspecified steps that will affect ordinary Bosnian Serbs as well as their leaders.
He stressed that that the Bosnian Serbs' governing Serbian Democratic Party (SDS) is to blame for blocking the EU-sponsored police reform, as a result of which Bosnia-Herzegovina will not be able
to start negotiations
on a Stabilization and Association Agreement (SAA) with Brussels in 2005. Ashdown argued that police reform poses no danger to Bosnian Serbs. He stressed, however, that the isolation they risk by adhering to the SDS's present course means "fewer jobs, more poverty, no chance of visa-free travel, and no question of joining the rest of the region on the road to Europe."
'Belarus Or Brussels'
Ashdown said that Belgrade and Podgorica want European integration for themselves and are unlikely to help the Republika Srpska out of a bind it has created for itself. He warned Bosnian Serbs that they must choose "Belarus or Brussels," isolation or integration. He concluded by saying that the Republika Srpska's "government now has an urgent choice to make -- this is the 11th hour -- police restructuring that meets EU principles, or to condemn their people to isolation and to suffer the consequences. The choice is theirs, and theirs alone. It needs to be made now. I hope they make the right choice."
Failure to reform the police along nonethnic administrative lines is the main obstacle to Bosnia's integration into the EU. The Bosnian Serbs consider the proposed a police reform unconstitutional and a threat to the sovereignty of the Republika Srpska because the proposed police administrative boundaries will cross entity lines and deny each entity control of its own security forces. Among each of the three ethnic groups in Bosnia, a legacy of the 1992-95 conflict is a close interrelationship between the worlds of politics, business, the security forces, and often organized crime.
Ashdown has previously hinted at taking unspecified steps against the SDS. Some observers suggested that he might ban the party at some point, but others have noted that Bosnians before and after communist rule generally cast their ballots along ethnic lines and that one could expect a banned SDS to reemerge under a new name. (See
"UN Envoy In Bosnia Sacks 60 Over War Crimes Failure"
and
"UN Action In Republika Sprska Backed By U.S."
)
In any event, in the days running up to Ashdown's 22 September statement, speculation was rife in the Bosnian media that he would announce major steps, possibly including the banning of the SDS or the sacking of Borislav Paravac (SDS), who is the Serbian member of the Bosnian Presidency, on corruption charges. All Ashdown said in that respect in his statement, however, was: "There has been much speculation about what I will announce today and in the coming weeks, some of it accurate, some of it less accurate. I will not dwell on that aspect today." The media, however, will certainly raise the issue of why he used his 22 September appearance to issue one more warning rather than announce the long-expected draconian measures.
The Basic Paradox
Ashdown's latest statement reveals once again the basic paradox in the international community's role in Bosnia under the 1995 Dayton agreement. On the one hand, the foreigners are there to promote the growth of Western democratic institutions and practices. On the other hand, they sometimes find themselves forced to rule by fiat in a country where voters elect nationalist officials who generally cannot agree with nationalists from other groups and who often refuse to modify their behavior in response to appeals from Brussels, Washington, and other international centers.
It has thus been left to the high representative over the years to make such basic decisions as the selection of national symbols or car license plates, and to sack errant nationalist officials or threaten more serious steps, as his latest statement seems to indicate.
He has zeroed in on probably the two most important issues affecting the majority of former Yugoslavs, namely poverty and isolation. Most people over 30 remember a time when their country was relatively prosperous and their passport alone in Europe was good for visa-free travel to both East and West. It is against these standards that most people in the region measure their present fate.
See also:

"Western Balkans: Is There Life Outside The EU?"For weekly news and analysis on the Balkans, subscribe to "South Slavic Report."