Ukrainian Premier To Name Cabinet Next Week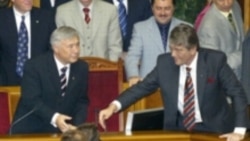 Yekhanurov (L), with President Yushchenko (file photo) 22 September 2005 (RFE/RL) -- Ukraine's new Prime Minister, Yuriy Yekhanurov, says he will name a government team next week.
Yekhanurov was speaking shortly after
parliament approved him
in the post at a second attempt.
"We have no time to lose. At least one-third of the government will be made up of people who have nothing to do with politics," he said. "These people will try to resolve pragmatically those problems that face our country today."
Today's vote was President Viktor Yushchenko's second attempt to secure endorsement for his candidate.
Two days ago lawmakers rejected Yekhanurov by a narrow margin.
He now succeeds Yuliya Tymoshenko, who was sacked two weeks ago amid infighting and accusations of corruption among senior officials.
(AFP/Reuters/AP/dpa)
See also Former Ukrainian Prime Minister Offers President Olive Branch and Ukraine: Orange Revolution Drowns Amid Mutual Recriminations