Belarusian President Downplays Vitebsk Bomb Blast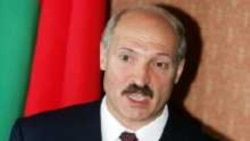 President Lukashenka (file photo) 23 September 2005 -- Belarusian President Alyaksandr Lukashenka today downplayed a bomb blast that left 46 people wounded in the central city of Vitebsk, suggesting it could have been the result of hooliganism.
Russia's ITAR-TASS news agency quotes Lukashenka as telling a youth gathering: "Someone drank beer somewhere, something went off, and people were wounded."
While ruling out terrorism, Lukashenka called upon society to remain vigilant against any possible attack. Belarusian police say yesterday's explosion was triggered by a bomb hidden in a flower bed outside a busy cafe.
Investigators have not commented on the possible motives for the blast. But security authorities say they have detained five suspects.
It was the second such explosion in Vitebsk this month. Police blamed the previous bomb blast on criminal gangs.
(ITAR-TASS/Interfax-Belarus)
For more news about Belarus, see RFE/RL's webpage News and Features on Belarus